Opuscule 0.3.2: New HTML export and other improvements
---
It's been a long time since the previous update. Even if I still use Opuscule on a daily basis, when I add new features, it's most often things I tend to consider as minor. So I don't always feel there's enough content for a proper release... even if there is. This is how I kept postponing the next update until I suddenly noticed 7 months had passed. Oops.
So, since I've finally noticed, here's a new update! You can find the details on the official website, but to sum up, there are mainly new features regarding HTML export. The core idea is to make the creation of multi-page websites easier. You'll find a bunch of new (and optional) properties in a dedicated screen that can be accessed with F4.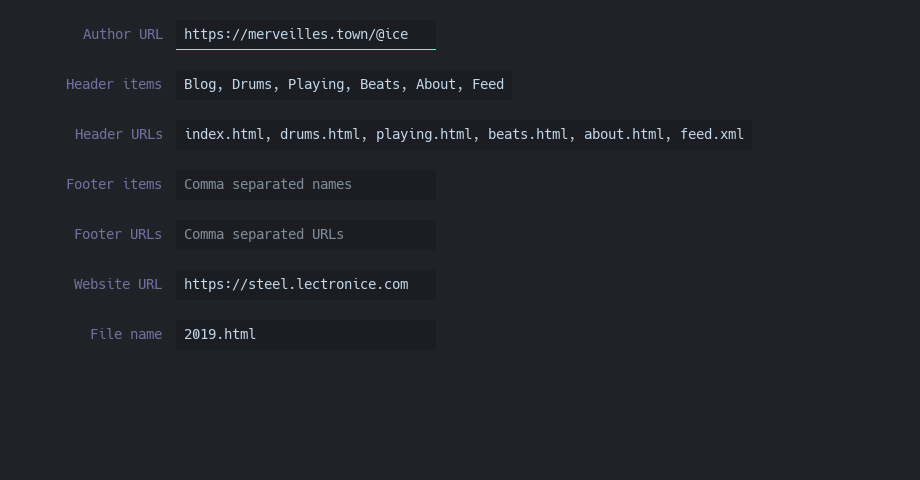 Among other things, you can now specify items that will be converted into links in the header and in the footer, and also generate a RSS feed. There's basically everything you need to output a simple static website, or even a blog, like the one I made for my steel tongue drums documentation project. I've also created a new, cleaner HTML template which includes various improvements and currently supports Markdown headers. It will probably be merged with the default template in the future and allow for different export options.

Keep in mind it's still far from being optimized at the moment. The CSS is not only a mess, it's also embeded in every file, so currently the "pages" of a website are way bigger than they should be. I have plan to externalize the stylesheet, add custom CSS and JS, and so on, but the whole export system needs varioux fixes before that.
A few other potentially useful things have been added, such as editing a page on double click in the navigation panel, saving automatically the window's size, allowing to keep the application always on top, and a bunch of other small tweaks I forgot.
I'm currently working on custom themes support, which will include a dedicated screen where you'll be able to choose the color of everything, both in-app and for HTML export. I'm also planning to make themes compatible with the 100 Rabbits ecosytem, and to enhance Markdown support, especially for links and lists. I'll try to make more regular updates as I add new small features, stay tuned!
Files
opuscule-linux-alpha.zip
14 MB
opuscule-win-alpha.zip
12 MB