Opuscule 0.3.1: Navigation panel and themes
---
It's time for a new Opuscule release, with a major usability improvement: you can now hit F3 to toggle a navigation panel, which will display either a list of all your books, a list of the current book's pages, or both. The list items are clickable, so you can now use your mouse to jump instantly between books and pages instead of using Esc and the arrow keys.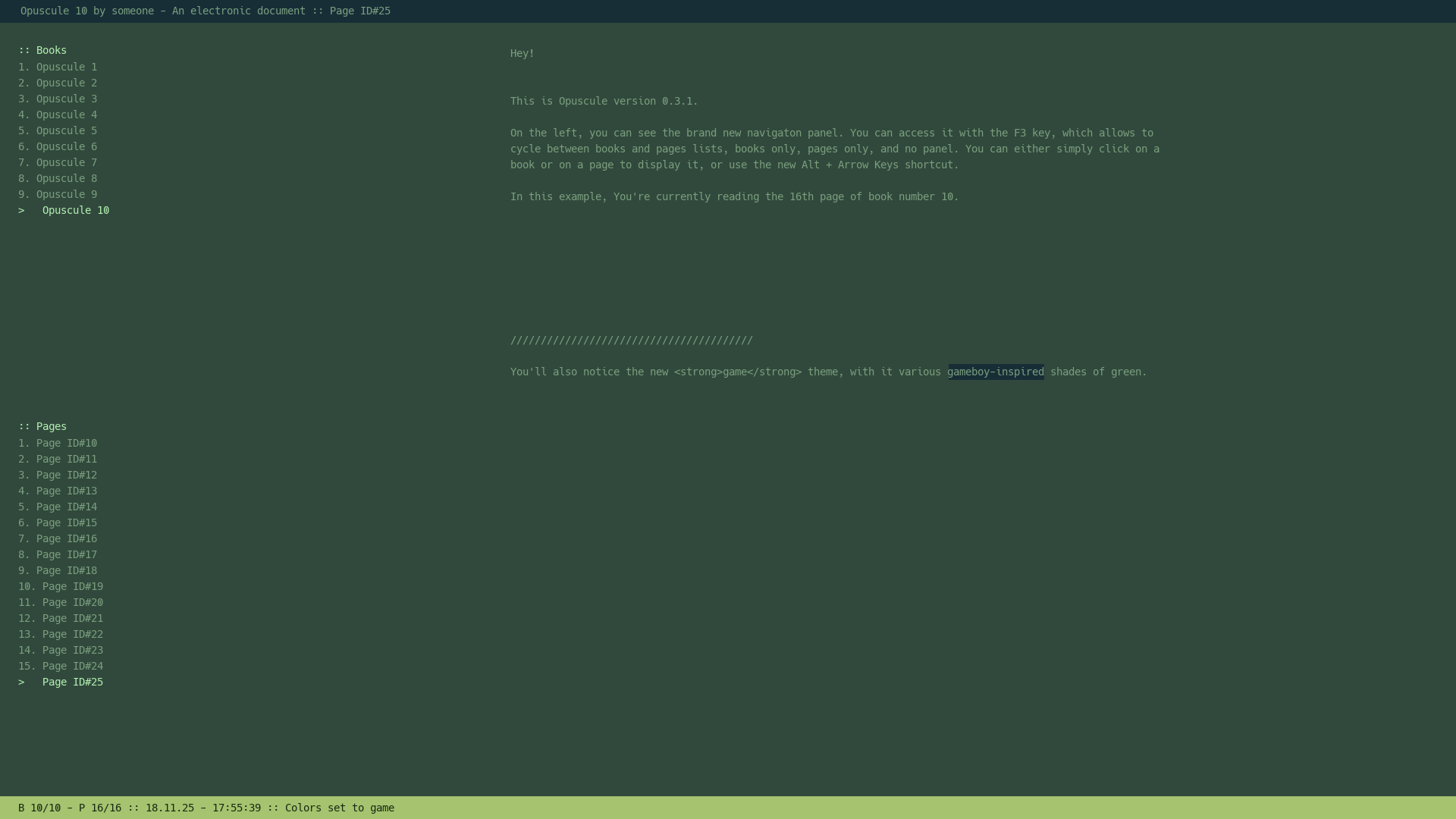 Speaking of arrows keys, this update also involves two noticeable changes.
The first one might disturb your habits, because left and right are now used to navigate books, and up and down to navigate pages. A vertical flow for pages seemed more natural since we already use the mouse wheel, and it just makes more sense visually regarding the verticality of the page list (yeah, I know, the book list is also vertical... but it should be used less often than the page list.)
The second change is in fact an addition. You can now use Alt + the arrow keys to navigate directly without entering command mode (or using the mouse.) This allows a much faster and smoother workflow. Base command mode navigation still works as it did before, but it will probably change in a future update, since it's now somewhat redundant.
There's also a bunch of bug fixes, and two new themes: game, a greenish, retroish, gameboyish blend of shades of green, and star, a deep space inspired palette. Regarding themes, I believe I'll definitely add an in-app color editor at some point, since I'm the kind of person who needs to use a different palette for every project. Creating themes is harder and longer than what you might expect, and to be honest, I'm not satisfied with most existing themes, so the possibility to tweak them on-the-fly sounds great. I'm also considering to add support for the 100 Rabbits ecosystem themes.
Last but not least, thanks to Godot 3.1 Alpha 2, text wrap is now supported for Linux and macOS.
I think that's all for now... As usual, the detailed changelog is available on the official website.
Files
opuscule-linux-alpha.zip
14 MB
opuscule_mac_alpha.zip
13 MB
opuscule-win-alpha.zip
12 MB
Comments
Log in with itch.io to leave a comment.
how do I change the theme on to dark mode
Press Esc then cycle through color themes with C.
You can also press F1 for the list of commands, it might help.